Marketing
Like with most products, distribution channels have evolved over the last five years given the changes in technology. If you have a website that you send your customers too, an online private exchange, or an enrollment platform that you have put together to sell insurance online, Morgan White Group (MWG) has a solution for you!
Depending on how you choose to display insurance quotes, we have several methods that allow you to quote and enroll customers online without being hands on.
Links, iFrame, and Banner Images
If you have your own website but have not committed to using or building an online private exchange Links, iFrames, and Banner Images may be the best option for you. As you can see below each are used in different ways and give you additional options to market these insurance plans to your customers and prospects.
Links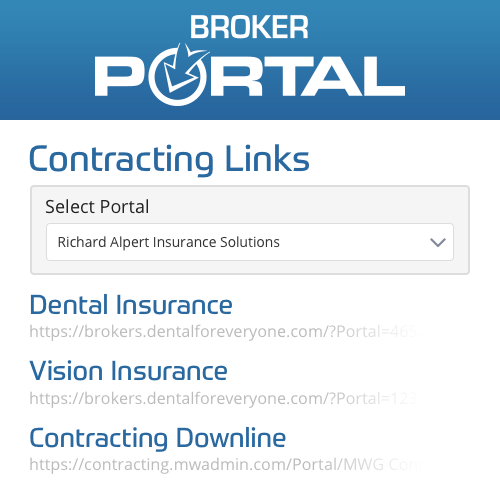 Once you contract through MWG you will receive an email that provides you with your specific enrollment link. This link can be used in your email signature, included in newsletters, or given to your group's HR directors to allow them to provide their employees or retirees an option for dental and vision insurance. Any enrollments that come through this link will be tracked to you and you will receive credit for the enrollment — even if you didn't physically help the customer compare plans.
Another feature that helps agents and brokers is the fact that you can also see the customers that have started the enrollment process and then stopped for some reason. You are given their basic contact information that they entered to follow-up with them to help complete the enrollment. Links are a great way to offer Dental & Vision Insurance without being bogged down in the enrollment process.
iFrame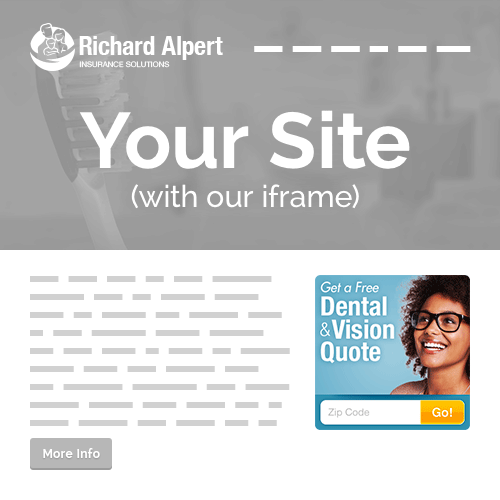 Without getting technical an iFrame is a way that you can display a mini quote engine on your website. It keeps the customer on your website and allows the quote engine to run on one of your webpages. You need to have a website for this to work.
A lot of our partners that offer other types of insurance online will build out an extra "tab" or "webpage" that is labeled for Dental and Vision Insurance and then put the iFrame on that page. This allows them to access all the carriers and plans you got appointed for in all 50 states. As you can tell this is a pretty easy way to offer dental and vision plans direct to consumer on your website.
Buttons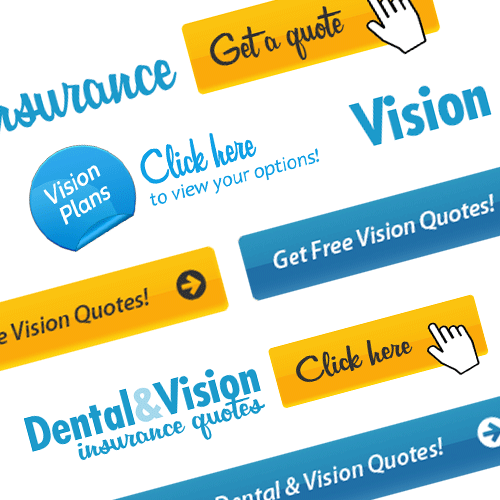 Buttons are strictly links that are displayed in an image. Our graphic design team has built 8 pleasing to the eye images for dental and vision insurance. These images will link back to you and credit all sales to your link. These images can be used on the side page of a website, in a press release, or anywhere insurance is being discussed.
Once you are contracted the different iFrame versions and buttons can be accessed through the MWG Broker Portal. All you need is your email and password to get started — this is also where your commission statements will be posted!
---
Webservices Page
Web-Brokers and Private Exchanges are usually interested in partnering with MWG through a Webservices connection. In basic terms, Webservices allows web brokers and exchanges to ping MWG's servers to gather information pertaining to rates, plan availability, provider networks, and plan design to display on their platform. In a nutshell, you like what you have built or purchased and just want our plan data displayed on your website.
Some of the largest web brokers in the country are currently working with us through this Webservices platform to access carriers such as Delta Dental, VSP, Davis, Renaissance, Madison Dental, Standard Life, AmFirst, Careington, Security Life, and many more.
What it takes to get started
Webservices is not a quick and easy process like links, iFrames and Banner Images. The normal implementation time for Webservices is 6-8 weeks saying that your programmers and our programmers depending on prior commitments and scheduling.
Prior to implementing Webservices, our organizations would need to have a call to discuss certain items such as:
Are you creating a new website from scratch or addressing an existing audience and will you be selling on the website only or will there be other agents contracting them to sell these plans on their platform?
What states are you licensed in and what plans do you plan to promote? Carriers?
Do you have a designated IT Team that can work with SOAP or JAVA?
How many enrollments are you currently processing through your enrollment system? (Direct to consumer or through a downline)
One thing to understand with this is that MWG is the TPA on this business and there are certain restrictions and enrollment processes that have been approved by the 12+ carriers on our platform that are unable to be tweaked.